New Orleans Mardi Gras: 10 Frequently Asked Questions and Answers
Mardi Gras is always an exciting time in New Orleans for locals and visitors alike. For those who have never attended, this celebration has much more to offer than you may realize. The festivities last for weeks and range from the wilder revelry on Bourbon Street to a variety of family-friendly activities. Learn more about this New Orleans tradition and get your top questions answered!
New Orleans Mardi Gras: The World's Best Free Celebration
Mardi Gras is an iconic annual celebration that encourages people to be creative, joyous, and celebratory. The tradition itself stems from Catholicism, referencing a period between the feasts of the Epiphany and going until the practice of Lent begins on Ash Wednesday.
This celebration has a rich history around it, even going back to the 17th century when French people were beginning to bring their culture over to the New World. Many different cities and cultures that are of French origin celebrate Mardi Gras, though it isn't necessarily a nationwide event.
Therefore, It's no surprise if you're not familiar with the specifics of Mardi Gras. In the United States, we typically associate the celebration of Mardi Gras with New Orleans, where it is especially popular. In fact, the New Orleans Mardi Gras celebrations are so notable that many people will flock from all over the world to visit our city during the holiday!
Mardi Gras is also referred to as Fat Tuesday by many due to its emphasis on indulgence, especially feasting. This is meant to contrast the fasting that often occurs during the Lent season.
So, while they're able to completely embrace their indulgence, the residents of New Orleans live it up by dancing, listening to music, and eating delicious food! Those who make it to New Orleans are typically greeted with a very boisterous celebration featuring vivid costumes, parades, musical performances, and traditional food.
There are so many different aspects of the Mardi Gras festivities that it can feel overwhelming to know exactly where to start, so we thought it would be best to answer some of the questions we've been asked most by visitors who want to experience Mardi Gras to the fullest.
So, without further ado, here are our top frequently asked questions and answers regarding the New Orleans Mardi Gras season.
Frequently Asked Questions About Mardi Gras:
How long does Mardi Gras last in New Orleans?
One common misconception people have is that Mardi Gras is just one day. However, just like Christmas, Carnival is actually an entire season of some of the best parties you'll see anywhere.
The celebration of Mardi Gras typically lasts for about a month, with festivities really heating up the closer you get to Mardi Gras Day (Fat Tuesday).
It's hard to pinpoint an average starting or ending date, because the festival's duration is entirely dependent on Easter. Because the date of Easter changes every year, so does Mardi Gras, but we recommend assuming that the bulk of the celebrations will last for about 3–4 weeks.
Carnival season always starts on January 6th, the Twelfth Night (feast of Epiphany), and culminates in boisterous Carnival celebrations during the extended Mardi Gras weekend before ending on Fat Tuesday, which is always the day before Ash Wednesday.
Depending on how much of the action you want to see, you can stay for a number of days, but we recommend at least having a few days so you can see a variety of the many different activities that will take place.
What is the weather typically like during Mardi Gras?
You would assume that during the winter the weather is more chilly and difficult to deal with, but New Orleans' location on the warm waters of the Gulf Coast and its subtropical climate make it very likely that you'll be in the midst of some nice, balmy weather. In fact, Mardi Gras season weather can actually be some of the nicest weather you'll feel during the entire year, because it hasn't gotten too hot yet. If you're traveling from a colder climate, you're in for a real treat.
However, we don't want to paint the picture that it's always sunny in New Orleans. With parades and festivities lasting for several weeks toward the tail-end of winter and into early spring, Mardi Gras weather can run the gamut from being chilly to actually quite warm! It can get pretty chilly on days that have a lot of rain, with a few odd days even bringing some bitingly cold weather as well.
New Orleans is infamous for the sporadic and rapidly-changing nature of its weather. Sometimes, it can even change between multiple types of weather in one day, making it necessary to have a change of clothes ready to go in case the weather changes drastically throughout your stay.
We recommend you pack a variety of clothes, but mainly focus on warm weather clothes. This way, if it stays warm, you're prepared—but if it suddenly gets cold, you'll still be able to throw on a sweater to tough it out. If you want to make sure you're ready for even our coldest weather, pack a warm coat, hat, and gloves just in case.
If there happens to be inclement weather during Mardi Gras, the parades typically still run in mild rain. This is because there's usually so much to keep track of that the show must go on unless it's impossible to do so.
That being said, if there is a torrential downpour or similarly tumultuous circumstances, parades can be canceled due to possible hazards. We recommend bringing a rain jacket just in case.
Does it cost money to go to Mardi Gras?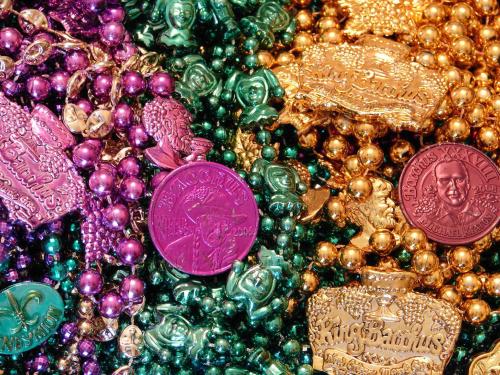 Nope! In fact, going to Mardi Gras parades is completely free, making it perhaps the best free party in the entire world.
This is a long-standing tradition that began to make the parades accessible to anybody who wanted to go, an idea truly emblematic of the wonderfully open New Orleans attitude.
Residents of the city believe that it's essential for those attending the festivities to always feel welcome, creating an open environment that is entirely accepting and promoting of diversity and inclusion. There is no such thing as an "official" parade that costs money to see, so anybody who is trying to tell you otherwise is only in it for the money.
We recommend you stick to the parades we discuss in this article, use a trusted
parade app tracker
, or ask locals or the hotel you're staying at for tips upon arrival.
When should I get to the parade?
It's important that you get to the parades early. Though it might seem like some parades don't get crowded or have low attendance, it's actually quite common for many parades to quickly fill up, and the
crowds can be massive
.
This is why we estimate that you should get to the parade about an hour or an hour and a half before the scheduled start time. This gives you wiggle room to get there too early, meaning that you'll be able to scout out a great place to watch the parade itself.
If you happen to get there early and want something else to do, we recommend taking a walk around and getting some food before finding another place. If you're in a multiple person party, an even better way of doing this is to have one person sit down and watch over the seats while the others go and grab food for the whole group.
One of the best things about parades is that they are typically located in pretty centralized areas, meaning that there is always something you can do before and after the parade.
Where can I find New Orleans Mardi Gras parade routes?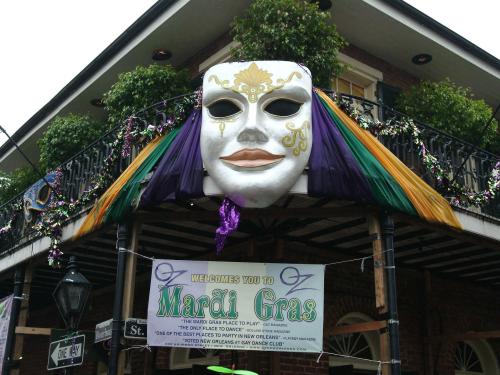 The parade routes can conveniently be found at this
link
, which gives you an overview of some of the more popular parades happening during New Orleans Mardi Gras in 2019.
We should note, though, that there will still be a handful of parades that are happening in other areas of town that might not be as well publicized, making it also a fun task to seek out opportunities that might be out of the way.
Where is Mardi Gras located in New Orleans?
Mardi Gras is not located in a specific section of New Orleans, as there are many different parades in different parts of the city. One of the most popular areas to go to is the French Quarter, largely known for its vibrant and often wild celebrations for the holiday.
However, it's also quite fun to go to other areas of the city—there are even some celebrations that happen in suburban areas, such as Metairie or Mandeville, that give you a completely different perspective on the parades. These parades are also typically much more family-friendly, so they're perfect for kids or young families.
When is the first Mardi Gras parade in New Orleans?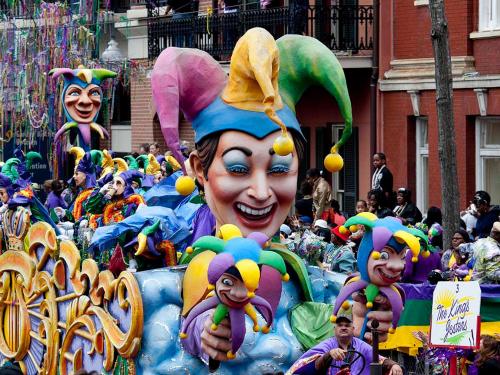 The short answer is: it depends on what kind of parade you're trying to go to.
At the start of the season, beginning on January 6th, the French Quarter plays host to two smaller walking parades to kick of the celebrations. These are followed by the contemporary counterculture parade
Chewbacchus
on February 9th in the adjacent Marigny neighborhood.
However, the first big Mardi Gras parade happens on February 22nd with the all-female
Krewe of Cleopatra
. To get a full listing of the events going on during the celebrations, please see the New Orleans Mardi Gras parade route schedule
here
.
How do I know what to do in New Orleans during Mardi Gras?
While the parades are the main attraction during Mardi Gras, there is always plenty to do in New Orleans before and after the parades.
If you're in town and have never been before, we highly recommend stopping by a bakery and trying a delicious beignet, as you've likely never had a donut like this. The best place to do so is at
Cafe du Monde
, one of the staple locations to try this iconic treat.
Another wonderful place to visit while you're in town for the festivities is
Mardi Gras World
, a location specifically built around the creation of floats for the parades. At Mardi Gras World you can see how the magic is created, how floats are made, and how the entire celebration comes together.
How do I get around New Orleans during Mardi Gras?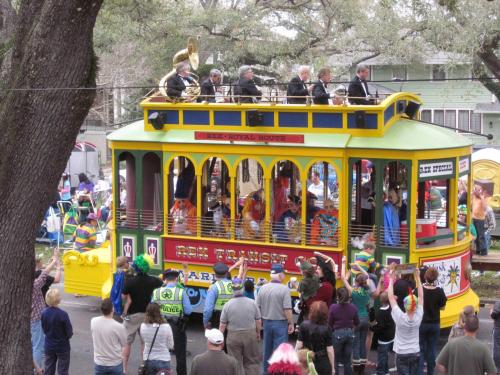 During Mardi Gras, we recommend getting around the city with ride-sharing services, taxis, or the Big Easy's very own signature streetcars.
Driving a car yourself during this time is not recommended—this is because the parking situation can be quite hectic around Mardi Gras, and typically all parking spots that are available are reserved for the locals.
We recommend avoiding driving in if you can or finding a long-term parking spot that will let you leave your car there for the duration of your trip, as it can get pretty complicated if you're trying to move your car to a different location every day.
Thankfully, though, New Orleans is a pretty well-connected city, and we recommend making full use of public transportation, which is both reliable and affordable.
Never ridden a streetcar? It's totally understandable, especially given how unique the system is within the context of American public transit. We recommend checking out our previous
guide on New Orleans streetcars
so you can get a good idea of what to expect when navigating the city.
Are there any other rules I should keep in mind?
On top of the tips that we've mentioned so far in this article, there are a few guidelines that have been set by the New Orleans City Council that are meant to ensure that Mardi Gras is not only an incredibly fun celebration, but also a safe one.
For example, there are no ladders or flammables, like grills, allowed within 6 feet of the sidewalk. Parking is also typically prohibited all over Napoleon and St. Charles Avenues (both sides) beginning about 2 hours before the parades start, making it important for you to find parking beforehand if you insist on bringing your car.
There is also a citywide ban on blocking the public pathway with chairs, tarps, or other devices typically used to sit down for watching the parades. You also won't find any portable toilets near the parades due to the city's insistence that vendors do not set those up on public property.
One of the most important rules to remember, though, is that you should keep track of your wallet and belongings while at Mardi Gras. This does not mean that the parades or celebrations are particularly unsafe, but it can get a bit overwhelming due to the crowds, and these moments are when pickpockets strike most often. However, if you're able to keep concentrated and keep an eye on your possessions, you should have no problem getting around efficiently.
Make Your Plans Today!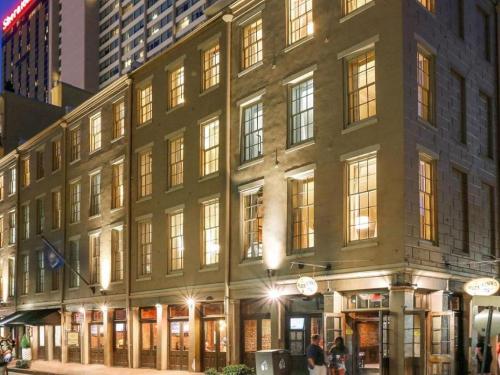 We hope that this guide has helped you understand the best way to experience Mardi Gras during your upcoming trip.
It's true that New Orleans during the wintertime is a truly unique place to be, offering you distinctly delicious food, wonderful warm weather, and a cultural underbelly that's always beating to a different drum.
This vivid culture truly comes out during Mardi Gras, with the entire city becoming incredibly active in festive celebrations that include a wonderful intersection between the city's incredibly talented arts scene, the internationally-renowned food culture, and the religious roots that make New Orleans a truly multicultural and open city.
While you're in town, we also recommend that you stay with us at La Galerie French Quarter Hotel, as it's truly one of the best ways to immerse yourself in the vibrant culture that New Orleans has to offer.
We are only blocks away from many of the New Orleans attractions and sites that are so beloved by natives and tourists alike, such as the rowdy, one-of-a-kind Bourbon Street, Jackson Square, and even the historic streetcar lines! There are even pieces of this culture within the hotel itself, such as a contemporary art gallery featuring the work of New Orleans locals.
What are you waiting for? Mardi Gras is a tradition that's always a hit, letting you experience many different styles that all center around a rich, vibrant tradition of fun and festivities in one of the most culturally rich cities in America.