La Galerie Hotel: The Perfect NOLA Girl's Night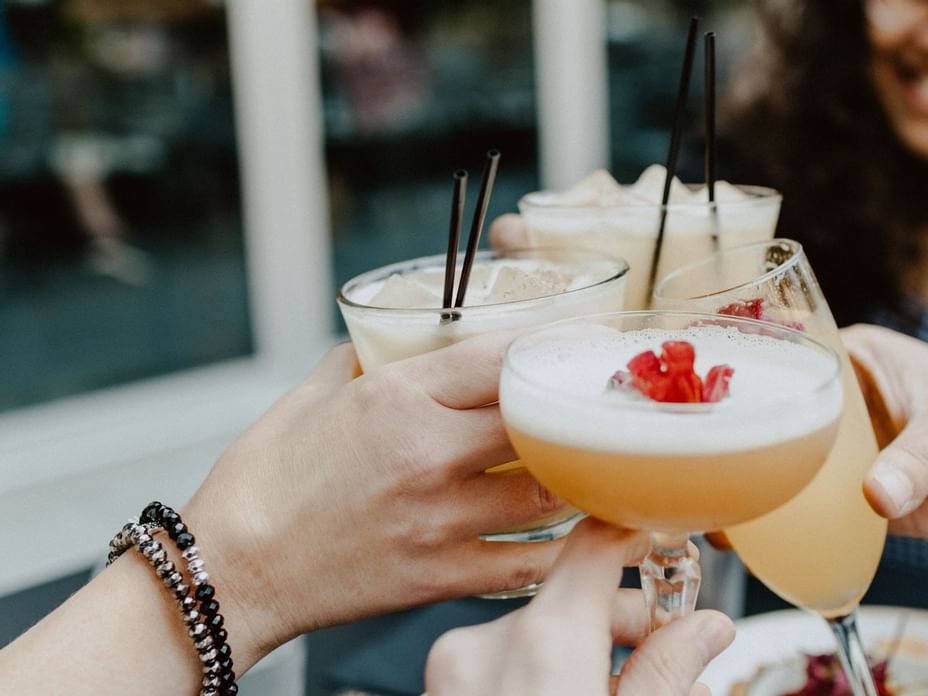 No matter how you choose to plan your girl's adventure, it's sure to last into the night, so having a comfortable place to stay is paramount when your fun is done. The La Galerie Hotel offers modern elegance and charm with an artistic edge; the perfect place to top off your fabulous night with your gal pals.
The hotel features an in-house art gallery, the Claire Elizabeth Gallery, that showcases an impressive revolving collection of pieces from up-and-coming contemporary artists. Art plays a big role in the city's culture, and this is the perfect way to keep it at your fingertips during your stay!
If you're ready for a delicious dinner or want to kick-off your night with a couple of cocktails, you don't have to look any farther than the hotel lobby. La Galerie is home to the locally-owned-and-operated Coterie NOLA Restaurant and Oyster Bar, which serves incredible New Orleans-inspired cuisine for breakfast, lunch, and dinner.
When you and your besties are ready to leave the kiddos at home and come out and play, you'll never run out of things to do in the Big Easy. If your fun starts during the day, shop, and play in the historic French Quarter and enjoy a mule-and-buggy ride. Take some time to marvel at the awe-inspiring St. Louis Cathedral and haggle away with over 200 vendors in the French Market.
If you need some more ideas for how to spend the rest of your evening with the girls, here are a few ideas that are sure to help you make it a night you'll never forget:
The Outlet Collection at the Riverwalk -- This large selection of shops and restaurants is the perfect place to indulge in a shopping spree, grab a snack, and take in marvelous views of the majestic Mississippi. Featuring such stand-out stores like Nordstrom Rack, Coach, Steve Madden, Guess, and many more, there are tons of bargains waiting to be found. Plus, quite a few of the stores are offering curbside pick-up, so you can shop on the run if you're ready to move on to the next event!
NOLA Tropical Winery -- While you're getting your shopping fix at the Riverwalk, why not slow-down and relax with a wine tasting? This retail space and wine-tasting room features unique, tropical-inspired wines made in the south. The store also features a selection of wine accessories and other items, plus original artwork from local artists. Make sure to sample a wine smoothie while you're there!
Meril -- Treat yourself to a mouthwatering dessert and cocktails at this casual and chic Emeril's restaurant. If your girl's night is for a special occasion, like a birthday or bachelorette celebration, be prepared for a little extra sparkle during your visit -- and we don't mean champagne.
Bourbon Street -- Of course, who could forget iconic Bourbon Street? This world-famous street has a reputation that reaches far-and-wide, but it isn't just about bars. There is a wide array of fantastic restaurants and clubs dotting this vibrant street, like the indulgent and luxe Galatoire's, one of the oldest restaurants in New Orleans.
Now it's time to gather the girls and book your stay at the stunning La Galerie Hotel. There's no time like today to plan for the ultimate ladies' night! Make your visit even more exciting by taking advantage of our Sip, Shop, and Save deal! You'll enjoy complimentary parking for one vehicle, BOGO drinks at Coterie, and a digital coupon book for the Riverwalk! Now, how's that for special?