New Orleans Christmas: Shopping for the Season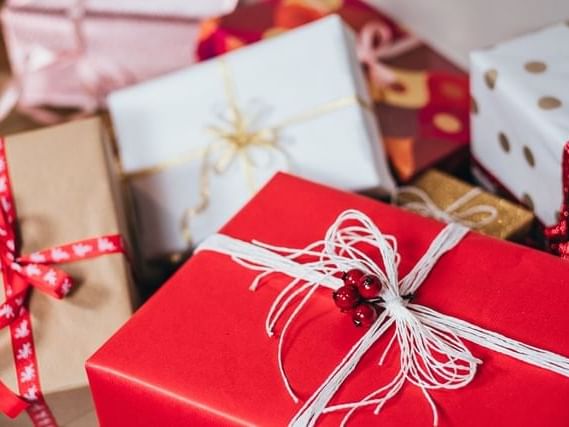 Whether you're a local New Orleanian who has some Christmas shopping to do, or you're a visitor to the Big Easy looking for some seasonal souvenirs, the French Quarter is a great place to find some Christmas magic. Several specialty shops feature incredible NOLA gifts, while others are all about Christmas decor, ornaments, trees, and more.
The best part about shopping in the quarter is that it's an experience in and of itself. Not only do you find unique and thoughtful items, but you get to enjoy the beautiful French Quarter at Christmas time. So while you're shopping, take in the sights and holiday decorations, listen to the music filling the streets, and enjoy a stroll that's filled with Christmas magic.
If you're ready to go Christmas shopping in New Orleans, add these local French Quarter shops to your list!
Located at 607 Royal St., this local shop offers stunning collections that center around Christmas and other holidays. You can find exciting decor, handmade ornaments, and much more. You can also check out many of the products on their website if you want to start browsing before you go.
If you want to bring a little bit of NOLA home with you or give a taste of the Big Easy to someone as a gift (hot sauce, anyone?), then this is the shop for you. Also known as New Orleans-To-Go and located at 601 Royal St., this one-stop-shop for everything New Orleans is the perfect place to find that special 'Nawlins souvenir.
Located at 600 Royal St., this specialty store features a wide assortment of beautiful items to help you add that special touch to your kitchen or dining room. It's also a great place to pick up that perfect hostess gift or Christmas present, with lots of holiday-themed merchandise adding to the fun.
It's Christmas all year round at this classic Christmas store, showcasing every kind of decoration and holiday flair that you can think of since 1976. Stop on by the store at 1025 Decatur St. to pick out your favorite Christmas tree, wreath, ornaments, or maybe a giant nutcracker. Anything goes at Santa's Quarters!
Merry Christmas and All That Jazz
This classic New Orleans shop located at 820 Decatur St. features an array of NOLA souvenirs and some other items you might expect in a more touristy place. Still, it also showcases a unique assortment of fun ornaments. If you're looking for something different to hang on your tree, then it's worth stopping in for a peek. Plus, you can find some great New Orleans themed gifts for your loved ones.
This quaint and charming toy shop features old classics with modern favorites, all backed by a friendly staff. Two tall wooden toy soldiers greet you outside the door, so you can't miss this shop located at 900 Decatur Street.
When you're ready to take a break and rest your feet during your Christmas shopping excursions, grab a bite at Cafe Beignet. Whether you're on Royal Street or Decatur Street when you need to refuel, you'll find this tasty place ready to satisfy your cravings. Stop in for a bite at 334 Royal St. or the location inside of Jax Brewery at 600 Decatur St.
If you're visiting New Orleans, or perhaps enjoying a mini-staycation, hang your Santa hat at the beautiful and posh La Galerie Hotel. You'll enjoy elegant accommodations with all of the modern amenities. Plus, if your furry friend is spending the holidays with you, you can bring your pal with you! Now it's time to dust off your walking boots, put on your favorite Christmas sweater, and start strolling through the shops!