"Wine" Down this Spring in New Orleans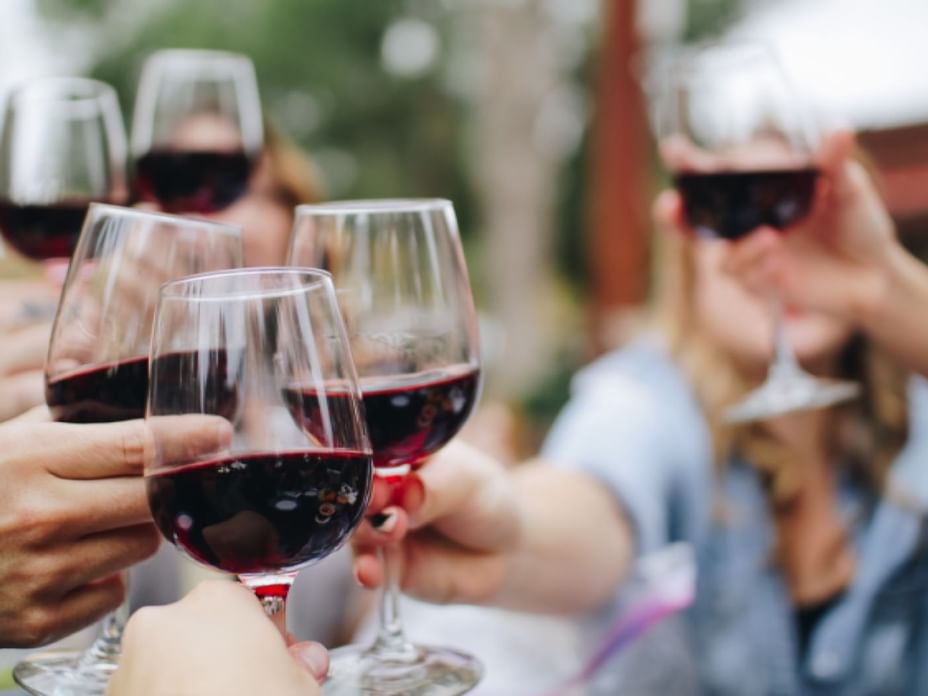 If you're a wine lover, then you may have already marked your calendar for National Wine Day on May 25th. Or, perhaps for you, every day is wine day! Whether you're a dedicated sommelier, casual wine drinker, or just enjoy a relaxing glass of vino now and then, celebrate #NationalWineDay with a visit to one of these incredible NOLA wine bars and restaurants.
New Orleans Wine Bars
Located in the New Orleans CBD, this restaurant finds its home in a building that's over 100 years old. Copper Vine has 30 wines on tap, providing customers with wine that tastes fresh with every pour. You can also purchase wines by the glass, carafe, and bottle. The restaurant will soon be hosting an upcoming event, the New Orleans Wine & Food Experience, featuring wines from the Dry Creek Vineyard, on June 9th, starting at 7 PM.
The Wine Institute of New Orleans was established by Bryan Burkey, a member of the Society of Wine Educators. This institute helps educate customers on wine as well as consultation on cellar design and maintenance, wine appraisals, and sommelier services. Dedicated to teaching visitors all about the wonders of wine, this school of vino has been temporarily closed during Covid, but it's about to reopen!
Currently only open Thursday through Sunday, this wine bar and bistro makes its home in a building that is over 200 years old! At Orleans Grapevine Wine Bar & Bistro, customers can enjoy wine by the glass, bottle, or in a flight. Whether you want a chardonnay, pinot noir, or anything else, a wine flight at Orleans Grapevine lets you experience a variety of brands' versions of your favorite wine.
Located in the historic New Orleans French Market, this bistro provides the perfect place to soak in the sights and sounds of the city while enjoying a glass of wine in a casual setting. Chef Juan Hernandez heads up this quaint eatery, bringing his native country of Spain to the various dishes. You can satisfy your appetite with omelettes, salads, or specialty sandwiches while indulging in a glass of one of Alberto's imported or domestic wines.
Located on the edge of the French Quarter, this lounge and restaurant is known for its extensive sparkling wine list. Effervescence's menu features bites and shared plates made of locally sourced ingredients to pair perfectly with one of the sparkling wines available in-house. However, you may have a hard time picking just one of the more than 200 sparkling wines offered by Effervescence!
Restaurants with Top-Notch Wine Programs
Commander's Palace is a New Orleans staple known for its excellent food, but it's also home to a wine list that is over 120 pages long. Its wine cellar consists of 2,600 bottles overseen by the palace's resident "Wine Guy," Dan Davis, a Certified Sommelier with the Court of Master Sommeliers. Additionally, Commander's Palace is a proud recipient of the prestigious Wine Spectator's Grand Award, a prize shared by only 75 restaurants around the globe.
You might find it on Bourbon Street, but this legendary New Orleans restaurant and its neighboring bar, Galatoire's 33 Bar & Steak, are anything but the typical establishments you might expect to discover on a boozy Saturday night. However, you can still find a vast selection of vino at this French Quarter restaurant. Galatoire's has a roughly 27-page wine list that customers can pair with one of the luxurious fine-dining dishes this restaurant has to offer. If you're not sure what wine to choose, just check in with René Sudduth, the restaurant's sommelier, for a recommendation.
Brennan's Wine Cellar offers more than 1,400 options, enough to satisfy any discerning sommelier or newbie wine-drinker. These wines pair perfectly with the decadent Creole cuisine cooked up by Brennan's top-tier chefs. Brennan's also serves around 100 different varieties of champagne, calling itself the "Champagne House of the South." In addition, Brennan's wine director, Braithe Tidwell, conducts classes twice a week with staff on wine education, making the entire team more than equipped to suggest a glass or two.
But Wait! There's More…
Just a smidge past the French Quarter lies the hip and vibrant Faubourg Marigny, offering a veritable playground for those looking for fantastic food, great music, and unique wine experiences.
Known as a "wine laboratory," Bacchanal is sure to provide diners with an evening of drunken revelry. Its Old World wine shop features wines from all across the globe that customers can enjoy in the outdoor courtyard. Most nights, there is even live music to experience at Bacchanal as you sip on a glass of wine from its extensive wine list.
At N7, customers will indulge in French-inspired cuisine infused with Japasane flavors and flair. The restaurant features outdoor seating amidst a garden. Have yourself a glass of one of N7's natural, European wines as the patio's lush and beautiful foliage surrounds you.
The Saint-Germain wine bar features a wide variety of wines and share plates that customers can enjoy in its large backyard seating area. Its wine menu consists of natural wines, free of sulfites, and grown organically. Every Tuesday night, wine bottles are even available to customers half off!

Of course, just because the day draws to an end doesn't mean your wine-tasting adventure needs to as well. So choose a bottle or two of your favorite vino to enjoy from the comforts of your cozy boutique hotel room in the French Quarter during your stay in the Big Easy. Cheers!