7 Best Barbeque Joints in New Orleans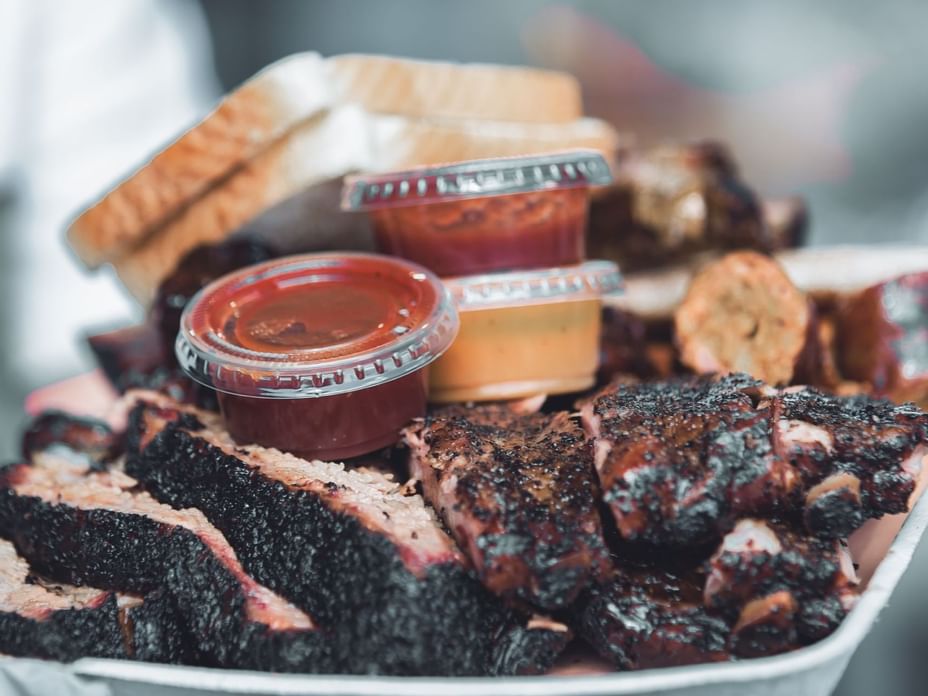 Now that it's July, summer traditions in New Orleans are in full swing. That means snowballs on a hot afternoon, enjoying the water features at the Cool Zoo, an evening of thrill-seeking on the rides in Carousel Gardens, and, of course, hosting a summer barbeque. If you don't know anyone who knows their way around a grill or are simply in NOLA on vacation, don't worry! Good barbeque is not hard to find in this city, so be sure to check out any of these restaurants for your grilled and saucy fix.
Bourbon & Bailey's BBQ
This N. Claiborne BBQ joint falls right between New Orleans' famous Treme and Marigny districts, serving up a good mix of barbecued surf and turf. Ten different oyster dishes are sold at Bourbon & Bailey's BBQ alongside a somewhat smaller, but no less mighty, collection of sandwiches like the slow-smoked pulled pork and bourbon burger. Enjoy some of its casual eats from 11 a.m. to 7 p.m. every day.
Ugly Dog Saloon and BBQ
Located in the heart of the New Orleans Warehouse District, this restaurant has been operating for 20 years, serving customers meat slow-roasted in its on-site smoker. Recently, Ugly Dog Saloon's menu underwent a revamp to include more bbq dishes inspired by Cajun and Creole flavors. Still, the high quality and taste of the restaurant have remained the same. Try the Lafitte Pig, a sandwich made from pulled pork, Canadian bacon, and sliced bacon all over slaw, cheddar cheese, and a hearty slathering of bbq sauce. Or, opt for the Higgins Spud, a baked potato topped with ¼ lb of pulled pork or chicken.
Central City BBQ
Though this eclectic little restaurant may have just opened in 2016, that doesn't make it any less delicious. Central City BBQ's pitmaster is a three-time Grand Champion of the Hogs For The Cause BBQ competition, and he backs the quality and taste of the restaurant's BBQ. Enjoy one of the house salads, topped with smoked chicken, pulled pork, or even burnt ends, and definitely don't skip out on the Hogs For The Cause award-winning smoked wings.
Gyu-Kaku Japanese BBQ
For a non-traditional barbeque adventure, try Gyu-Kaku Japanese BBQ. At this restaurant located in the CBD, Japanese BBQ is the star. You can create your own lunch combo with two or three barbeque items of your choice, like prime kalbi short rib, beef tongue, or umakara pork, with miso soup, salad, or white rice. Add something extra to your lunch combo, like a side of edamame, dumplings, or even smores!
Blue Oak BBQ
Although Blue Oak BBQ is in Mid-City, it is absolutely a must when enjoying the New Orleans BBQ scene. Plus, you can easily access it taking the streetcar from the CBD to Mid-City. Known as "New Orleans' Best Barbeque in the World," this restaurant is one of the most popular BBQ spots in the city. Blue Oak BBQ has a large outdoor patio and a bar inside, ready to serve up cocktails and the daiquiri of the day. Be sure to try the BBQ nachos and any of the numerous sandwiches available on the menu, like the Pit Viper with its jerk pulled pork, slaw, and jalapenos, or the T-Rex's Smoked Turkey.
The Joint
This BBQ restaurant achieved national fame after being featured on the Food Network's "Diners, Drive-ins, and Dives" hosted by Guy Fieri. Although it's out in the Bywater, this little shack is more than worth the drive from the CBD. The Joint serves up some of the juiciest smoked barbecue in town, like its burnt ends and smoked brisket. Make sure to try some of its famous sides, like the mac and cheese and slaw, too. Dessert in the form of a freshly made slice of pie is a must; after all there's always room for some of NOLA's tasty sweet treats.
Cochon Butcher
Although not strictly a barbecue restaurant, Cochon Butcher sells some of the city's best meat, made by some of its full-time butchers. Each week, this restaurant butchers, crafts, smokes, and cures over 2,000 lbs of meat and sausage in-house. Every menu ingredient is fresh; the bread is baked fresh daily at its sister restaurant La Boulangerie, and other ingredients come straight from local farmers. For your BBQ fix, try the BBQ Pork Carolina Style, the Smoked Turkey Sandwich with avocado, arugula, and tomato basil aioli, or the Cubano with smoked pork, ham, and swiss.
After satisfying your craving for some of the best BBQ in the Big Easy, take a snooze or simply unwind with a cocktail at a posh New Orleans hotel. It's the perfect way to kick back and let the food settle, so you can go out and have some more.