Dog-Friendly Guide to New Orleans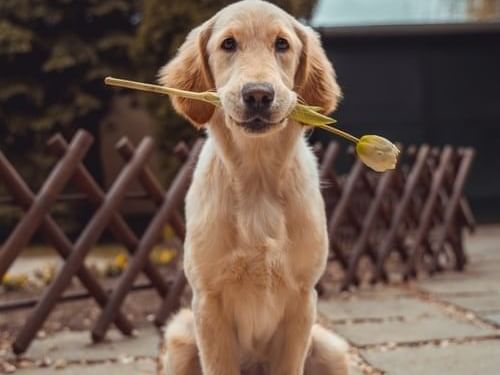 New Orleans is a welcoming city for people and pets alike. It's filled with dog-friendly restaurants, activities, and so much more. There's even a dog parade, Barkus, during Mardi Gras! This pet-friendly destination is one of the best places to travel—not just because you can bring your pet along with you, but because there is so much to see and do. However long you plan your stay, there's always more to experience. Our dog-friendly guide to New Orleans provides you with all the information you need to plan an amazing stay with your dog in the Crescent City. Get insider tips on accommodations, restaurants, things to do, and important information for your next trip to New Orleans.
Pet-Friendly Hotels in New Orleans
La Galerie French Quarter Hotel is a dog-friendly hotel located in the historic New Orleans French Quarter. La Galerie is the perfect choice among all the pet-friendly hotels in New Orleans because it's not only accommodating, but your dog can stay with you for free. La Galerie welcomes well-behaved pets as guest with the following guidelines:
Pets may not exceed more than 45lbs.
Pets are not allowed in any food service areas.
Pets must be kept on a leash in public areas and you must clean after your pet.
Cell phone number must be provided upon check-in.
There is a maximum of one pet per room.
Housekeeping may not service rooms with unattended pets.
As long as you stay within these guidelines, your favorite loyal companion can join you at our hotel as you explore and adventure around the great city of New Orleans. View the rest of our amenities today.
Dog-Friendly Restaurants in New Orleans
The eating is so good in New Orleans, it's always hard to narrow down a list of restaurants. Fortunately, you don't have to sacrifice good food when you want to bring your dog out with you. Here are some of the many amazing dog-friendly restaurants in New Orleans.
Herbsaint
Herbsaint isn't just one of the best dog-friendly restaurants in New Orleans. It's also one of the best restaurants of any kind in our city. Located in the Central Business District, Herbsaint has been featured as one of the Times-Picayune New Orleans Best 10 Restaurants for many years and received recognition from Eater National as one of the Best Restaurants in America, among many other awards. To get the best experience at this top New Orleans restaurant for you and your dog, ask for a reservation to be seated outside. You dog will thank you!
Café Amelie
This café is an excellent option for dog-friendly restaurants in New Orleans. It features a lovely outdoor courtyard, and you can enjoy brunch, lunch, or dinner next to luscious jasmine and burbling fountains. The restaurant is right in the heart of the French Quarter, and the courtyard space is so beautiful that it's used for weddings. Fortunately, you don't need to book a whole event to enjoy a meal there, and your dog is welcome to come along and join you. The menu features a number of French and New Orleans-inspired dishes you'll be sure to enjoy to the very last bite.
Dat Dog
How could we not put Dat Dog on our list of dog-friendly restaurants in New Orleans? It has "dog" in the name! In this case, however, the "dog" refers to "hot dog." Dat Dog is a New Orleans staple. It has several locations in New Orleans, Louisiana, and Texas, and each uses fun outdoor Christmas lights, bright colors, murals, and great music to create its lovable ambiance. We recommend visiting the location on Frenchmen Street about a mile from La Galerie. Dat Dog is best known for its customizable menu. You can pick from several options as your base, from a classic hot dog to an alligator dog or even a vegan dog. You can get as many toppings as you wish for no additional fee, and don't forget to add some fries and a shake to your order. It's sure to be a hit for both you and your dog.
Pet-Friendly Activities Around New Orleans
There's always something happening in our city, and there are plenty of options for pet-friendly activities in New Orleans. If you have a particular local event or activity in mind, it never hurts to ask in advance if it accommodates pets. If you're looking for some activities that definitely allow dogs, here are a few of our favorites.
Woldenberg Riverfront Park
Woldenberg Riverfront Park, fondly referred to as the Riverwalk, is a fantastic place to take your dog. The 16-acre riverfront park is located just outside the French Quarter after crossing Poydras Street and offers a stunning view of the Mississippi River, one of the most historic bodies of water in the United States. The Mississippi River has shaped our nation's history, and it continues to be an important part of the New Orleans tourism industry as well as the United States' imports and exports. Walk along the water with your pet, taking in the view of the river, cruise ships, tugboats, and the Steamboat Natchez. Enjoy the fountains, statues, and people-watching along the way, too. At the end of Woldenberg Riverfront Park is The Outlet Collection at Riverfront. Although there are several great stores and enticing deals inside, pets are unfortunately not allowed. To avoid any issues, stick to enjoying all that the park has to offer you and your dog outside.
Urban South Brewery
Urban South Brewery is a local New Orleans brewery that features different home-brewed IPAs and many other beers. The taproom is both kid-friendly and dog-friendly, and it's a fun place to go any day of the week. They also have a variety of fun games to play, including cornhole and foosball. Urban South hosts plenty of unique, entertaining events as well, from crawfish boils to new food trucks. If you end up staying for a while and need to take your beer to go, that's not a problem for this brewery or the city of New Orleans. Crowlers, growlers, and cans are all available to go, and you can also buy cases of beer to enjoy later. Watch our video about the best breweries in New Orleans to learn more about Urban South and our city's brewery culture.
NOLA Ghost Tour
New Orleans history is full of hauntings and ghost-related tales. If you're looking for a fun ghost tour to learn more about New Orleans' haunted history and bring your dog along for the ride, book a NOLA Ghost Tour. As you walk past different spooky sites, NOLA Ghost Tour shares their stories about mobsters, pirates, voodoo, and more. There is so much to see on a single tour, from haunted hotels to the LaLaurie mansion. Choose from a selection of three tours: an exclusive ghost hunt, a New Orleans ghost tour, and a tour of the St. Louis No. 2. Cemetery.
Rodrigue Studios New Orleans
George Rodrigue is an American artist famous for his blue dog pieces, which can be found all over the city of New Orleans. His universally loved blue dogs can be spotted on murals, pianos, canvases, and all sorts of unique mediums. Although Rodrigue passed away in 2013, his legacy lives on in his three gallery locations. In the New Orleans gallery, you can see a variety of George Rodrigue original paintings, jewelry, and publications. The New Orleans gallery is located in the French Quarter on Royal Street, and leashed dogs are more than welcome. His gallery would be a great spot to pick up some meaningful souvenirs or gifts for loved ones of all ages. If you want to find even more New Orleans art, browse our top 10 Royal Street art galleries—though you may not be able to bring your dog.
Dog Parks in New Orleans
Our city has no shortage of dog parks, and no dog-friendly guide to New Orleans would be complete without them. Check out some of our favorite dog parks where your dog can stretch their legs and you can meet other dogs and owners.
The Dog Levee & The Fly
The Dog Levee is located right along the Mississippi River in Uptown. This dog park has a ton of room for your pup to run around—but be sure to keep an eye on them, because it's not fenced in. When you're done, you can bring your picnic blanket and cooler full of refreshing drinks to Audubon Park's The Fly right next door. The Fly has one of the most beautiful views of the sunset in the city of New Orleans. Bringing your dog along is also a surefire way to introduce you to some cool locals. If you want to get more adventurous, take a look at these outdoor activities and bring your dog on a hike or out on a kayak or canoe.
New Orleans City Bark
City Bark is a dog park located in the middle of New Orleans City Park, the famous home of the New Orleans Museum of Art, botanical gardens, sculpture garden, and so much more. Dogs are freely allowed in City Park (though not inside any of the buildings), but City Bark is always a special treat for dogs. The dog park requires a permit (or temporary permit for tourists) to make sure all dogs are properly vaccinated. Download the application online and for only $10, you can bring your dog to City Bark for a week. There are on-site restrooms, separate play areas for small and big dogs, water fountains (for both dogs and humans), shaded pavilions, and more. Your dog will thank you for the trouble, and he or she might even make a new best friend.
Pet Stores in New Orleans
When traveling with pets, it's always important to know about the local pet stores, so we made sure to include them in our dog-friendly guide to New Orleans. If you're looking for the best places to buy your pet good food, toys, souvenirs, and treats, check out some of our favorite New Orleans pet stores.
Amis des Paux
This adorable shop sells limited-ingredient, natural, and delicious pet treats inspired by the city of New Orleans. Local neighbors started the store in 2014, and they've been coming up with irresistible treats for pets ever since. If you're in New Orleans for a special occasion, give your dog a reason to celebrate too. Get a pet-friendly cake at Amis des Paux. Even better, you can spoil your dog without feeling guilty about any of these treats, because Amis de Paux makes all its treats with nutritious ingredients that are good for your dog. There's also an outdoor courtyard that both you and your dog can enjoy for a much-needed rest after lots of shopping up and down Magazine Street. Even if you can't make it to Amis des Paux, keep your eye out for Amis des Paux treats at other local stores, as they partner with many other shops to sell their dog treats.
Southern Paws Pet Boutique and Barkery
Southern Paws is a French Quarter favorite for pups and owners alike. There are plenty of delicious gourmet treats and even a special dog wine, but the selection of dog-related goods extends far beyond that. There are tons of home decor pieces to browse, from funny wall signs to kitchen dish towels. You can also get your dog an adorable collar or a chew toy that won't drive you crazy. This store sells so many fun things that both you and your pet will in enjoy for a long time, so be sure to check it out when exploring the stores in the French Quarter.
Important Reminders for Your Dog-Friendly Guide to New Orleans
It's Hot and Humid
Louisiana heat can be jarring for visitors. The humidity here is unsurpassed, and dogs visiting from far and wide might get overwhelmed and easily dehydrated after a long day of exploring. Don't forget your portable water bowl, and be sure to pack some extra water bottles so you can fill it up for your canine companion. Throughout the day, it's not a bad idea to check the pavement temperature, too. If you can hold the back of your hand to the sidewalk for five seconds or more, it should be safe for your dog to walk on. Learn more about heat stroke in dogs as well to ensure your dog stays safe.
Check BringFido.com
Looking for even more recommendations after reading our dog-friendly guide to New Orleans? BringFido.com is a great resource for finding even more dog-friendly restaurants, parks, and activities for your trip to New Orleans. If you have another establishment or event in mind, but you don't know if pets are allowed, BringFido.com is the first place to check before calling up the business to ask.
Book Now at La Galerie French Quarter Hotel
Now that you've finished our dog-friendly guide to New Orleans, you know all about pet-friendly hotels in New Orleans and our city's dog-friendly restaurants, activities, parks, and stores. After all that preparation, it's the perfect time to book a trip. Check out the promotions, amenities, and room options at La Galerie French Quarter Hotel in New Orleans and book today. Also be sure to check out the summer specials if you can make it before the fall arrives!