Top 10 Royal Street Art Galleries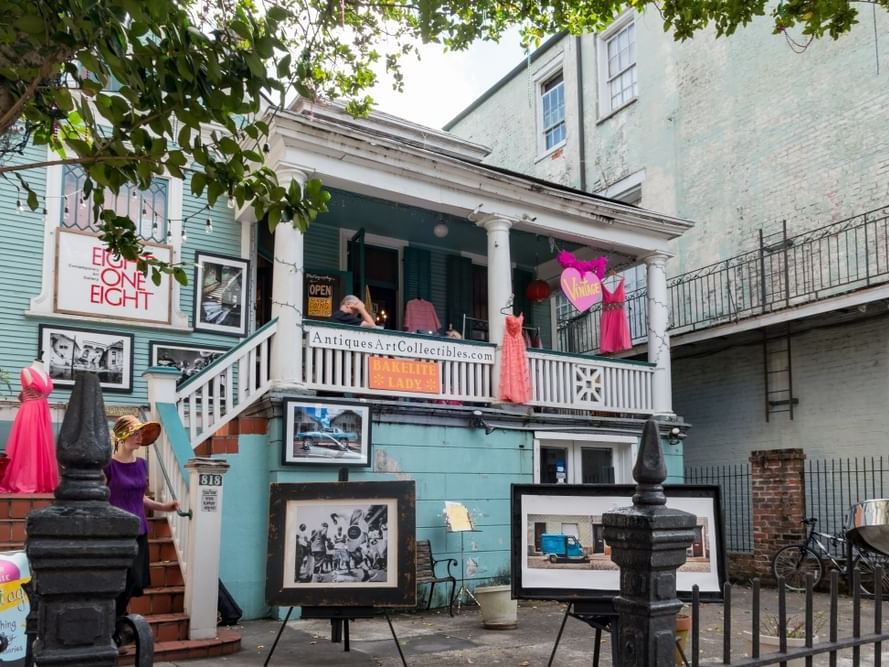 One of the best ways to interact with art in New Orleans is by visiting the many art galleries on Royal Street. The artwork in these galleries ranges from paintings to sculpture, jewelry, antiques, body painting, photography, and much more. Whether you just want to browse or you're looking to buy, you're sure to find what you're looking for on this popular French Quarter street. Check out our top 10 Royal Street art galleries to get started!
1. M.S. Rau Antiques
630 Royal St.
M.S. Rau Antiques is an internationally recognized leader in rare antiques, fine art and jewelry. This gallery displays museum quality paintings along with statues, furniture, home decor, and much more. The 25,000 square foot gallery boasts antiques by names including Tiffany & Co., Paul Revere and Fabergé.
2. Gallery Burguieres
736 Royal St.
Ally Burguieres is an artist, designer, and inventor specializing in popular and conceptual pieces. Her artwork has a childlike feel to it, displaying vibrant colors and animal themes. Among her popular décor collections is "The Notebook Series", a sequence of large acrylic paintings mimicking sketches on notebook paper.
3. Rodrigue Studio
730 Royal St.
Rodrigue Studio is best known for the famous blue dog paintings. The artist, George Rodrigue, seeks to "graphically interpret the Cajun culture" and preserve his culture. The well-known blue dog can be seen throughout the streets of New Orleans.
4. Sutton Galleries
519 Royal St.
Sutton Galleries is a family-owned gallery representing artists from around the world and from within New Orleans. The gallery has been operating for over 100 years.
5. Craig Tracy Gallery
827 Royal St.
The featured artist, Craig Tracy, displays photographs of authentic body paintings without any digital or non-digital manipulation. All of his works include at least one painted person hidden inside the photographs.
6. Antieau Gallery
927 Royal St.
Antieau Gallery works to display joy and its mysterious origin. Artist Chris Antieau tries to embody the wonder of childhood and everything that entails.
7. Martin Lawrence Gallery
433 Royal St.
Martin Lawrence Gallery has been open for over 40 years and specializes in original paintings, sculpture and limited edition graphics. The gallery features some of the world's most revered artists - Picasso, Rembrandt, Warhol, and others.
8. Frank Relle Photography
910 Royal St.
Artist Frank Relle shares the beauty, culture, and history of New Orleans through his series of nocturnal photographs. These dark photographs often show striking scenes of the homes and landscapes of Southern Louisiana.
9. Gallery Orange
819 Royal St.
Gallery Orange is one of the leading bohemian art galleries on Royal Street with both local and international fine art. This small gallery has a friendly, neighborhood feel to it.
10. Harouni Gallery
933 Royal St.
The artist Harouni is an internationally recognized artist who has painted all over the world. Harouni migrated to the U.S. from Iran during the 1978 Revolution and has been working as a figurative painter for over 25 years.