Guide to Crawfish Season in New Orleans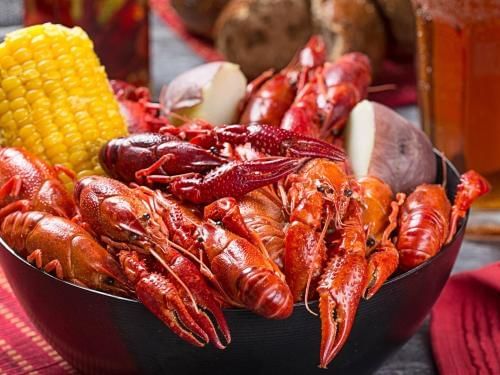 Crawfish were named the national crustacean of Louisiana in 1983, but the freshwater mudbugs have been around a long time, originally baited and harvested by Native Americans.
Louisiana produces 100 million pounds of crawfish annually, specifically the red swamp and white river species. Crawfish is a staple of Louisiana culture and cuisine, and its peak season is early March through mid-June. Crawfish boils and fests celebrate the mini lobster in all its forms, whether as etouffee, pie or boiled. Want to get in on the action? Here's Hotel St. Pierre's guide to crawfish season in New Orleans.
How to Eat Crawfish
Crawfish are actually quite healthy. They're packed with good protein, low in calories and high in Vitamin B12. An average order of crawfish is three pounds, but big eaters can easily put away five pounds of these freshwater crawdads.
Crawfish are consumed communally, with crawfish boils enjoyed over picnic tables covered in newspaper. Crawfish are boiled with spices, corn and whatever else you want to throw in. Unlike their hardshell lobster cousin, you don't need any tools when opening up a crawfish. Simply straighten out its tail and twist, separating the tail from the body. (Sucking out the juices from the body is optional). All the meat is in the tail. Some people enjoy dipping the tail in vinegar or other sauces. A nice, cold beer pairs wonderfully with crawfish. Also, be prepared to get a little messy--that's half the fun.
Crawfish Á La...
New Orleans' culinary creativity doesn't stop short on the crawfish, which can be enjoyed in other ways besides the traditional boil. New Orleans' "sausage purveyors" Dat Dog makes its own crawfish sausage, which is topped with crawfish etouffee, sour cream, mustard, onions and mustard. Dat Dog has several locations -- if you're staying at Hotel St. Pierre, its nearby French Quarter location is at 601 Frenchmen Street.
Keep an eye out for crawfish pie. Pere Antoine Restaurant in the Quarter serves up crawfish cakes and crawfish pie. This is just steps away from the hotel at 741 Royal Street. Pere Antoine offers a great open-air atmosphere to enjoy Cajun fare.
Interested in crawfish etouffee? Etouffee means "smothered" in French, and New Orleans Online describes the dish as a thick stew similar to gumbo, made with a blonde roux. Royal House at 441 Royal Street is rumored to have the best crawfish etouffee in the Quarter.
Crawfish Events & Festivals
Crawfish season symbolizes the coming of spring in Louisiana and there's no better way to celebrate than with a crawfish boil. Here are some upcoming crawfish events to check out:
Nola Crawfish Festival - Crawfish eating contests, live music and more. April 30-May 2 at Central City BBQ
Breaux Bridge Crawfish Festival - The festival tradition goes way back. Live music and more. May 4-6, located two hours from New Orleans in Breaux Bridge
Crawfish Mambo - University of New Orleans' all-you-can-eat crawfish boil with live music. May 12 at the University Center parking lot.
--
Booking your stay in The Big Easy? Check out specials at Hotel St. Pierre -- history, comfort & affordability in the French Quarter.