Top NOLA Parks for the Ultimate Spring Picnic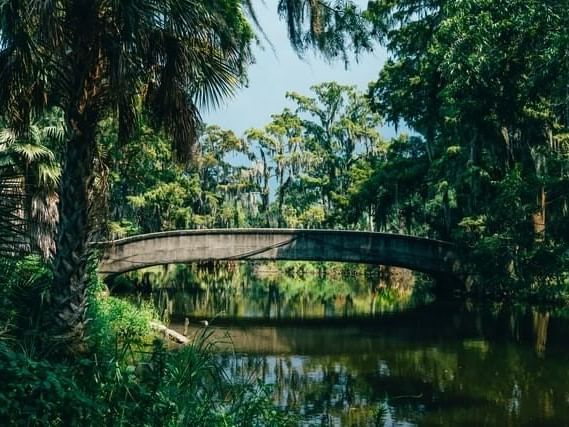 It might still be winter in New Orleans, but that doesn't mean too much when it comes to the temperature outside. Even in February, you can end up with a day in the mid-60s to 70s, with gorgeous, sunny weather. And as springtime approaches, those pleasant days start to increase in number. It's the perfect time for some picnics in the park, featuring delicious food and fabulous surroundings, two things that NOLA has in abundance.
Here are three stand-out parks for the perfect NOLA picnic and where to get some of the best food for your outdoor chow-fest.
This sprawling 1,300-acre masterpiece is one of the largest urban parks in the country, with a history reaching back over 170 years. Featuring an assortment of green spaces, massive oak trees, lagoons, and more, you'll find a variety of atmospheres for your picnic. There are also numerous attractions within the park, including sculpture gardens, an amusement park, botanical gardens, bike trails, surrey and boat rentals, and the New Orleans Museum of Art, just to name a few. You can also pick up your meal to-go at Cafe du Monde, the home of NOLA's famous beignets, located inside the park.
This spectacular oasis in the middle of NOLA's uptown area features multiple picnic spots, playgrounds, a jogging trail, riding stables, a golf course, and more. It stretches from St. Charles Avenue (making it an easy trip on the streetcar) to Magazine Street, and right across Magazine, you'll find the impressive Audubon Zoo.
This park pays tribute to one of the Big Easy's most esteemed legends, Louis Armstrong. The park is all about art, jazz, and music, featuring different events throughout the year at the historic Congo Square. It's only a block from the jazz-inspired Hotel St. Pierre; so grab your food and find a peaceful spot among the trees, or spread out a blanket along the banks of the lagoon.
Before heading to the park, pick up the ultimate picnic lunch at one of these nearby local favorites:
If your picnic plans bring you to fabulous City Park, this local cafe is an excellent place to grab some takeout. It's only a hop, skip, and a jump away and offers various delicious sandwiches, paninis, po-boys, salads, and more. Plus, if you plan to bring your pup along with you to the park, there's a pet-friendly patio where you can sit while you wait for your order.
New Orleans Hamburger & Seafood, Co.
Located on St. Charles Avenue, this restaurant features po-boys, burgers, seafood, and some cajun bites like alligator poppers and boudin balls. Situated right on the St. Charles streetcar line, it's easy to hop off and grab your meal before hopping back on the streetcar on your way to Audubon Park.
After enjoying your meal, pack up your picnic basket and explore all the fun and history that the parks have to offer. Afterward, head back to your cozy hotel room to kick back and relax with a cocktail or two. Now, all you have to do is decide where you'll go first!