What's Open in New Orleans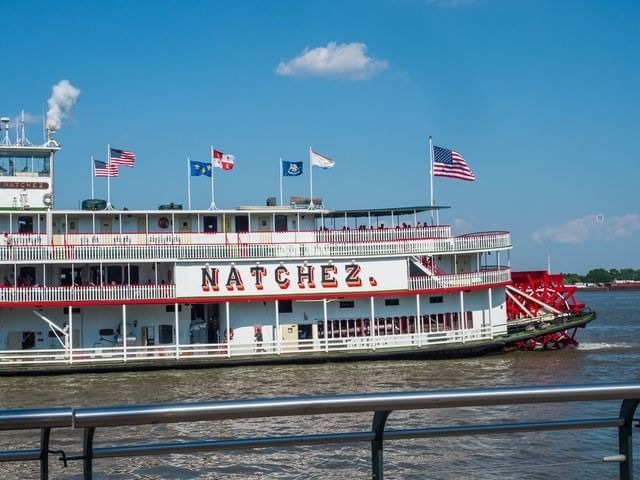 Whether you're a Big Easy local or planning to visit NOLA for a much-needed getaway, something is spellbinding about this unique city! While several area attractions and events are still closed due to COVID-19, there are many places open for business, including restaurants, museums, and more, so you can explore NOLA in a socially-distanced way!
So grab your mask and hand sanitizer and get ready!
Here are a few things you can add to your to-do list if you want to get out and about in New Orleans during Phase 2:
Enjoy Brunch and a Jazz Cruise along the Mississippi River on the Steamboat Natchez
With its impressive 25-ton paddlewheel, this authentic steamboat offers daily two-hour jazz cruises, plus sumptuous brunch options on the weekends. You can also take a cruise on its sister vessel, the brand new City of New Orleans. Journey down the mighty Mississippi River, take in the sights of the city and relax as you listen to the rooftop calliope and sip on a cocktail.
You can reserve your tickets and make reservations for brunch online. Due to gathering restrictions, tables have been spaced apart, limiting seating, so don't wait to reserve your spot! If you want a closer look at Steamboat Natchez's Covid-19 protocols, you can find them here.
Ranked as one of the top attractions by USA Today's 10 Best Reader Poll, this popular aquarium showcases impressive displays that recreate amazing locations like the Caribbean, the Amazon Rainforest, and even a Mayan temple. You'll meet over 3,600 animals, including cute penguins and majestic sharks, as you explore the world beneath the waves. You need to make reservations and purchase your tickets ahead of time since spaces are limited.
There are sanitizing stations set up throughout the aquarium, and guests are directed through the building in a one-way flow. The food court is currently closed, but a separate, small concession and snack area is set up for your convenience, where you can purchase goodies from a limited menu. You can find answers to your Covid-related questions by visiting the Aquarium's FAQ's page.
Experience world-class cuisine at some of NOLA's top restaurants
New Orleans is known for many things, especially it's irresistible, mouthwatering cuisine. Make sure to enjoy a meal at some of the most tempting French Quarter restaurants like Brennan's and Cane & Table, or stop in at a neighborhood pub like the Longway Tavern.
While these and many other restaurants are open for dine-in, they are operating at a limited capacity, and many are also serving a limited menu. Make sure to visit the restaurant's website or give them a call before you visit to check up on the latest hours and policies.
Engage in fantastic shopping experiences throughout the city
When you're ready to flex your shopping muscles, New Orleans offers ample and diverse opportunities to do so. Get a jump start on your holiday shopping from galleries and shops along Royal Street to an assortment of stores and eateries at the famous Jax Brewery. You can score unbeatable deals on designer brands at the Outlet Collection at the Riverwalk, which features curbside pick-up through many of its stores, or test your negotiation skills as you look for bargains and unique finds at the historic New Orleans French Market. For more information about how these businesses are handling Covid-19 safety measures, check out their websites.
Educate yourself at one of several fantastic museums
New Orleans is also full of history, art, and beauty, all of which are showcased throughout several top-notch museums across the city. Take the Canal Streetcar Line to the sprawling grounds of City Park, home to the magnificent New Orleans Museum of Art, which features over 40,000 incredible pieces on display. Learn about the city's incomparable musical heritage at the New Orleans Jazz Museum, located in the Old U.S. Mint, and get a closer look at Louisiana's story and history at The Cabildo, right next door to the stunning St. Louis Cathedral.
No matter where your explorations take you, New Orleans abounds with rich history and entertainment, even amidst the restrictions of a pandemic. These exciting and interesting locales are sure to fill your agenda whether you're spending the day or the weekend in beautiful NOLA! Plus, when you book your stay at an enchanting French Quarter hotel, you'll add a whole extra layer of charm and intrigue to your time in the city! Now, all that's left to do is choose where you'll go first!