New Orleans Streetcar Guide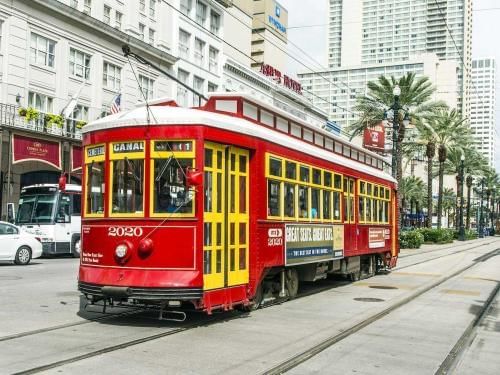 New Orleans is home to a unique form of transportation: the streetcar. Also called a "trolley" in other cities, these electric rail vehicles provide transportation to locals and visitors alike. Even if you have a car with you, it's worth taking a ride on one of our iconic streetcars. Use our New Orleans streetcar guide today to find great attractions along the two streetcar lines closest to La Galerie Hotel.
Canal Street Line
Nearby Attractions
1. Canal at Decatur
Start Your Journey!
Catch the streetcar displaying "City Park/Museum" on the front and follow this guide to see the best sights of New Orleans.
2. Canal at North Rampart
St. Louis Cemetery #1
As the oldest cemetery in New Orleans, St. Louis Cemetery #1 is the resting place of many esteemed New Orleans citizens. The $20 entrance fee includes a 45-minute comprehensive tour of the grounds and burial sites.
Saenger Theatre
The historic Saenger offers everything from touring Broadway shows, to concerts, to comedy show, all of which you can find listed on the calendar on their website.
3. Canal at Jefferson Davis
Parkway Bakery and Tavern
From traditional fried shrimp or oysters to smoked alligator sausage, Parkway Bakery and Tavern offers some of the best po-boys in the Big Easy. Once you get off at Jefferson Davis, Parkway is about a four-block walk away.
4. Museum of Art
City Park
Though this stop is listed as the "Museum of Art" stop, this stop also serves the rest of City Park, a 1,300-acre oasis located in Mid-City. Whether you eat some beignets at Morning Call, smell the roses in the Botanical Garden, check out the extensive art collection at the NOMA, or just stroll under the oaks and moss, City Park offers something for everyone.
Click here for a full streetcar map.
St. Charles Avenue Line
Nearby Attractions
1. Canal at Carondelet
Start Your Journey!
Hop on at Canal at Carondelet, a four-block stroll down Canal from La Galerie. This streetcar stop only serves cars heading Uptown, so don't worry about going the wrong direction.
2. Carondelet at Girod
Lafayette Square
In the heart of the Central Business District, Lafayette square is a great place to stop and relax. In the spring, you can even see a free jazz concert here every Wednesday. Two blocks away sits Saint Patrick's Church, an ornate and colorful historic landmark.
3. Carondelet at Julia
Museums
Once you get off you'll be just a block from The National WWII Museum and Ogden Museum of Southern Art, two of New Orleans' best museums.
4. St. Charles at Washington
Garden District
Explore the historic homes and boutique shops in the Garden District. Eat at the legendary Commander's Palace or stroll through Lafayette Cemetery #1 located just a few blocks away.
5. St. Charles at Tulane
Audubon Park
Audubon Park is a great place to stretch your legs and explore. With the Audubon Zoo just a brief walk away, this stop is fun for the whole family. Across from the park, visitors also enjoy walking around the historic campuses of both Tulane and Loyola University.
6. South Carrollton at Oak
Sno-balls and Creole Fare
Oak Street is home to some of New Orleans' most classic culinary offerings. Stop at Plum St. Snowballs and experience their many flavors of shaved ice or walk down to Jaques-Imos where you can taste authentic creole cusine.
Click here for a full streetcar map.